| Mechanical model holder A54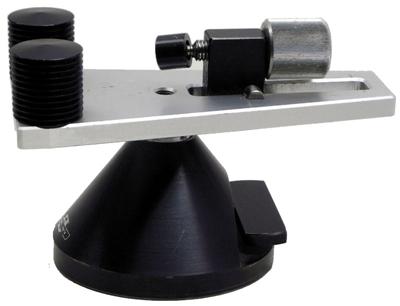 Mechanical model holder A54
complete model holder
A54 is a complete mechanical model holder made up of:
AX/C, conical model holder base made up of steel, with adjustable inclination, safety lock and a system for vacuum locking on the working plane by the vacuum pump AX/P. Ideal for milling;
universal model holder plate A54/P, steady locking device for models of each size. It is usually furnished with CS and TG but different interchangeable accessories are also available to adapt it to the features of each single model. Equipped with a simple, quick and reliable system to fix every kind of model. Ideal for attachments assembly and suitable for miling. It erases dead times of the plaster transfer and its inaccuracy;
model holder extension PRO1, that raises the plate of about 17 mm (see pictures).

It can be provided with AX/M magnetic support for the magnetic locking on steel working plane.