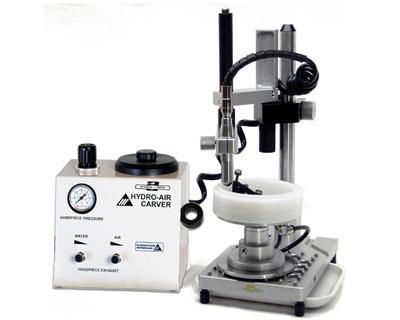 Perseo Alfa
Milling machine for ceramic finishing
PERSEO is a milling machine specifically designed for the finishing of primary elements of ceramic materials (sintered zirconia, zirconia implants, alumina, and metal free all-ceramic).
Studied to be used with a water turbine, to avoid micro-fissures in the ceramic, can adopt each kind of laboratory turbine (upon dimensional compatibility check).
Supplied with an innovative water collect system, it permits to work in a more ergonomic and quicker way, saving all the elements of the machine.
Perseo Alfa -

Milling machine for ceramic finishing
Worked materials
Zirconia
*****
Technical data
Machine dimensions (mm)
200x280x420
Machine Weight (kg)

6

Dimensions hydro pneumatic feeder (mm)
220x170x210
Weight hydro pneumatic feeder (kg)
3,5
Turbine
Turbine speed (rpm)
0÷300.000
Turbine pressure (bar)
2,8÷3,2
Turbine air consumption (l/min)
40