| Mechanical model holder AR1/M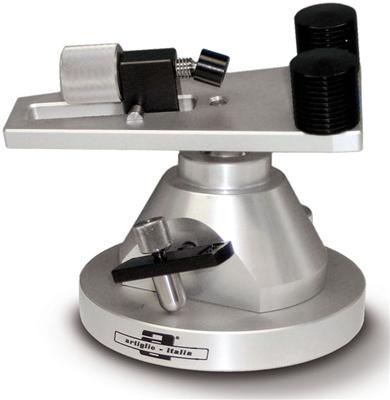 Mechanical model holder AR1/M
complete model holder

AR1/M is a complete mechanical model holder made up of:
aluminium AR1 base, the classical Artiglio's model holder base in a heavy version. Easily fixable and inclinable, fit for vacuum locking and sliding on air cushion. Furnished together with quick connector AR0 between the air tube and the model holder base. Ideal for milling;
universal model holder plate A54/P, steady locking device for models of each size. It is usually furnished with CS (standard columns) and TS (standard head) but different interchangeable accessories are also available to adapt it to the features of each single model. Equipped with a simple, quick and reliable system to fix every kind of model. It erases dead times of the plaster transfer and its inaccuracy.

Usually provided with aluminium disc and vacuum locking system, it is also available with:
- steel disc, for its locking on electro-magnetic working plane or;
- fixed magnetic disc, for its locking on steel working plane or;
-
switch off magnetic disc
, for its locking on steel working plane.







TS, standard head, usually furnished with A54/P plate


TG, jaw head, ideal for models with SPLIT-CAST plate




 


TC, conical head
 





TP, pointed head

CS, couple of standard head, usually furnished with A54/P plate

CR, couple of stub columns, ideal for models with SPLIT-CAST plate

PRO1, model holder extension, which raises the model plate from the base of about 17 mm, suitable to approach the model to the vertical range of the machine

AR1/MD model holder base with switch-off magnets