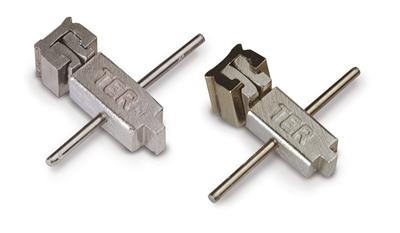 TER
Rigid attachment

Ter is the up-to-date version of one old Artiglio rectangular attachment of the '50s that in the last years has been produced an sold as Klinat attachment.
It has been the first attachment with interchangeable patrices that still brags the greater number of imitations. Two versions patrix allow the attachment being used as rigid or semi-rigid connection.

The strongest rectangular dental attachment international  always available.


Reduced males available for an easier connection (Ter libe version)
Precision machined
Interchangeability of matrices and patrices
It can be activated
Male easily changed
Features  

Matrix
Patrix

Universal for all patrix versions
Three materials: resin alloy, ceramic alloy, stainless steel
Two shapes: free travel, closed end
Available also strengthened

Available also with a higher degree of freedom (Ter libe version)
Three components: male, sheath and pin (see as example Art drawing at page 14)
Three different versions: MICRO, SUPERMICRO and CORTO
Two materials: precious alloy and stainless steel
Two inclinations: 90° and 105°
Usage advices  

Indications
Fixation

Upper and lower dentures
Dentures with bounded and free-end saddles
Unilateral and bilateral dentures

MATRIX: soldered or cast-on with precious and non precious alloys

PATRIX: soldered to removable partial denture with precious and non-precious alloys
Prodotto
Female height (mm)
Female width (mm)
Guide lenght (mm)
Male height (mm)
Male width (mm)
Total lenght (mm)
TER MICRO 90° - 511012
stainless steel - resin alloy
3,5 
3,4 
2,6 
2,0 
2,0 
9,6 
TER MICRO 105° - 511112
stainless steel - resin alloy
3,5 
3,4 
2,6 
2,0 
2,0 
9,7 
TER SUPERMICRO 90° - 512012
stainless steel - resin alloy
3,5 
3,4 
2,6 
1,4 
2,0 
8,90 
TER SUPERMICRO 105° - 512112
stainless steel - ceramic alloy
3,5 
3,4 
2,6 
1,4 
2,0 
9,0 
TER CORTO 90° - 515013
stainless steel
3,5 
3,4 
2,7 
1,6 
2,0 
7,5 
TER CORTO 105°
"LOW and SHORT" attachment!
3,5 
3,4 
2,6 
1,6 
2,0 
7,6