G.A.32 Damper
resilient attachment
The damper G.A.32, extracoronal adjustable dental attachment international Grifo, has been designed for free-saddled removable dentures to grant low stress on the pillars.
One version that joints small dimensions with the maximum strength.
Easy to apply,

it

is made up of 

two main elements:
- matrix, composed by a single item: female;
- patrix, composed by four items; 

male,

pin,

sheath and spring,

 

easily interchangeable

removing the pin 

placed laterally to the

sheath.


The particular

cylindrical shape

of the joint

offers 

an extended

contact surface

giving

a greater

retention force

and

friction

and gives a special

ease of

insertion

.


The cylindrical-shaped end of the sheath allow the housing of the spring.


The spring

, made of high quality material

,

ensures the best

effectiveness over time;

even

if the spring

gets

less

, there's the possibility t

o maintain

the frition

.

G.A.32 damper Grifo can be provided also with adjustable patrix allowing a more precise activation.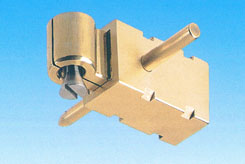 Technical features 

Female

Patrix

• Five materials: resin alloy, ceramic alloy, ceramic alloy suitable for casting on, stainless steel, calcinable plastic

• Four components: male, pin, sheath and spring


• One material: stainless steel

• Two inclinations: 90°  and  107°

• Two versions: standard and adjustable

        female                             male                            pin                     spring                   sheath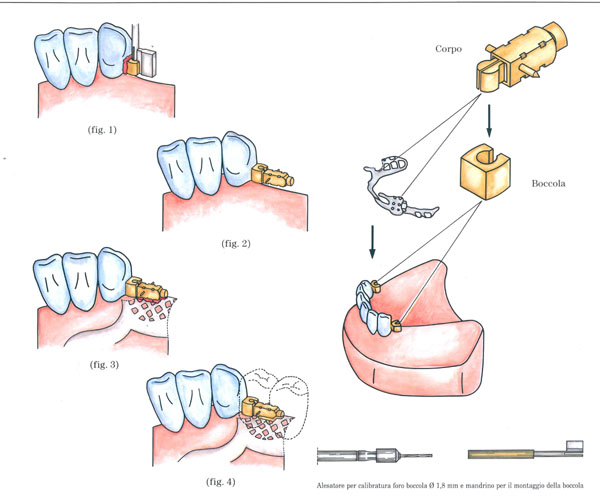 Wax the female to the crown using the proper

paralleling

mandrel

in axis with the

alveolar ridge

, leaving sufficient space

for

the papilla (

Fig. 1)
Investing the crown with the soldering female.
Assemble the complete attachment (patrix with the female (Fig. 2)
Go on with the surveying and the casting.
Fix the sheath to the framework with resin (Fig. 3)
Remove the male.
Investing for the soldering.
Insert the framework on the model and mount teeth on saddles (Fig. 4)
Before the duplicating, remove the male, insert the pin and fill the sheath of plaster or silicon to prevent the infiltration of the resin.
Procede with the finishing of the prosthesis.