| G.C. 34 - G.C. 38 Hinge

G.C. 34 - G.C. 38 Hinge
resilient attachment
The extracoronal removable hinge Grifo, a well-known dental attachment international, is available in two different versions:
- G.C. 34
- G.C. 38
It is

 

intended to retain 

the

 

removable denture to one or more pillars of single or double-sided saddles

.




Easy to apply,

it

is made up of 

two main parts:
- matrix, composed by one element: female;
- patrix, composed by four elements:

male,

pin, spring and

 

sheath,

easily interchangeable

removing the pin 

placed laterally to the

sheath.




The adjustable male, provided with female supporting shoulders of

cylindrical shape

,

gives an extremely precise guide

offers 

an extended

contact surface

preventing lateral swing

.
The sheath contains the spring housing and can be provided also with an end reinforcement - available also with stainless steel pins to be modeled on saddles - to be better retained in the resin.

Grifo attachments G.C.34 and G.C.38 can be provided also with adjustable patrix allowing a more precise activation.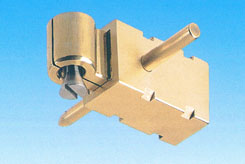 Technical features 

Female

Patrix

• Five materials: resin alloy, ceramic alloy, ceramic alloy suitable to be cast on, stainless stell, non residual burn-out plastic

• Universal for all patrix versions 

• Four components: male, pin, spring and sheath


• Two different dimensions:  G.C. 34 and G.C. 38

• One materials: stainless steel

• Two inclinations: 90°  and  107°

• Two versions: standard and adjustable

             female                    male                   pin              spring           sheath                 protection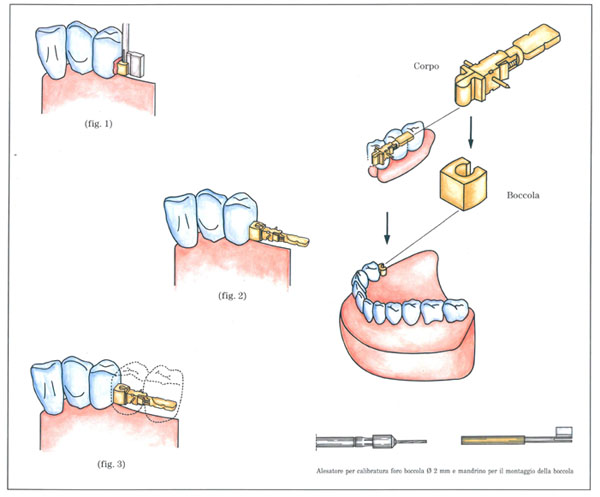 Wax the female to the crown using the proper

paralleling

mandrel

in axis with the

alveolar ridge

, leaving sufficient space

for

the papilla (

Fig. 1)
Investing the crown with the soldering female.
Assemble the hinge (patrix with the female (Fig. 2)
Mount the protection on the hinge and model teeth with wax (Fig. 3)
Before the duplicating, remove the male and the spring.
Insert the pin to achieve the right mounting of the hinge.