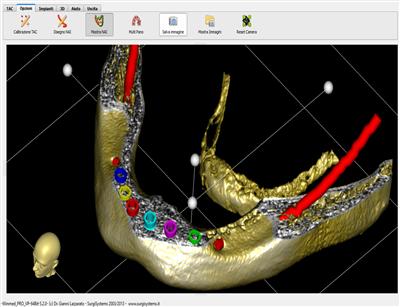 Winmed
software for the 3D pre-surgical planning

 www.surgisystems.it
Winmed, software for the 3d pre-surgical planning of the dental implant treatment.
Extreme accuracy of elaboration,
which eliminates the alignment distortions of the patient during the CT scans, joined to a
perfect compatibility
with several implant brands and to an
extreme ease
of use: that's why any clinician cannot do without
Winmed
software. Its main feature is to achieve the highest predictability of the implant placement avoiding those mistakes that can occur during an implant treatment without any pre-surgical planning and any surgical prosthetic guide.
The last release of
Winmed calculates
also the
mean implant axis
(called A.M.I.),
and
the
global structural risk factor
, a fundamental data for a precise and complete surgical planning.
Entering into download
 section of the website www.surgisystems.it (after registration) you will be able to obtain Winmed 5.0 Free Viewer.
Winmed 5 Pro VP
(together with the Galileo Target or DGT devices) represents, nowadays, the easiest tecnology to make a computer aided dental implants placement; in that way your dental technician will be able to realize your customized prosthetic guide in his laboratory.