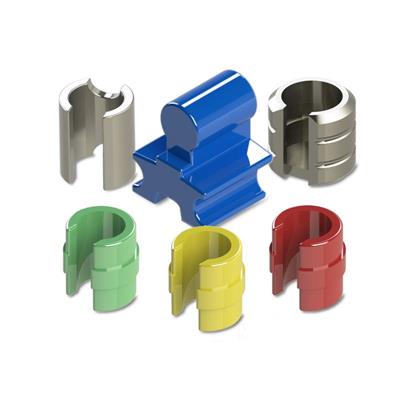 V-slide GT 28
rigid attachment with integrated guide grooves
V-slide GT 28
, upgrade of V-slide attachments, provided with two integrated guide grooves and prefabricated matrix housing. 
High machined pricision to grant aesthetic, serviceable, cost-friendly, patient-friendly attachments adaptable to all situations.
The elastic matrices of three different retention streght, need a minimal and quick maintenance that can be made by the technician or also at chairside in a few seconds.
V-slide GT28
is the simplest dental attachment international wich provides excellent lateral stability and requires no additional lingual arms. 
BENEFITS



⇒ Two guide grooves integrated in the attachment easily adjustable 

⇒ Three colour coded matrices for three retentive strengths: light (green), standard (white) and high (yellow)

⇒ Patrix of non-residual burnout plastic, easily polished

⇒ Small dimensions allow placement in limited rooms

⇒ Time saving thanks to

 

simple and safe processing 


INDICATIONS


♦
Kennedy's classes I, II, III, IV
♦
0° bars

♦

2

° bars



Features  

Matrix
Patrix
• Three retention strenghts: light (green) standard (yellow) and high (red)

• Metal housing, for the matrix fitting, that can be bonded, soldered or fixed with resin into the removable partial denture
• Plastic pattern patrix provided with two guide grooves integrated and front waxing guide
Usage advices  

Indications
Fixation
►Lower and upper partial dentures

►Free-end and/or bounded restorations

►Unilateral and bilateral dentures

⇒ MATRIX: fitted into its housing that can be bonded or soldered or locked with resin in the removable partial denture

⇒ PATRIX: cast as part of crown pattern