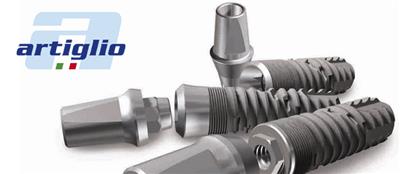 Compatible abutments
 All range of compatible prosthetic components from Artiglio are medical devices complying the MDD Directive 93/42/EC as subsequently amended.
We have over 700 restorative products to choose from.
Our goal is to proved you with the best solution in term of fit, durability and ease of use.

All compatible prosthetic components must be used by licensed dentist, clinics and labs.

The products shown in this section of our website are COMPATIBLE prosthetic components.

They ARE NOT ORIGINAL products.

All trademarks are not property of Artiglio but they are used to show the compatibility.