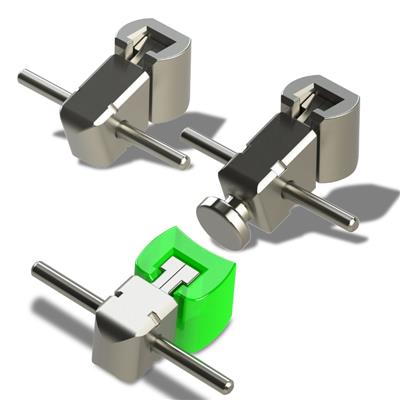 Sweet
Resilient attachment

Sweet is a rectangular slide attachment available in different shapes and dimensions.
Concevived in the '50s by Artiglio and subsequently produced and sold as Klinat attachment, its feature is a soft and progressive friction to grant an optimal retention.
Sweet offers a combined support; more rigid in short span saddles and more resilient in long span saddles in extension.

The simplest rectangular dental attachment international  always in stock.


Combined connection: rigid retention and resilient support
Oversized matrix of long duration
Features  

Matrix
Patrix

Universal for all patrix versions
Four materials: resin alloy, ceramic alloy and stainless steel


Three components: male, sheath and pin

Three versions: C (short), L (long), LR (long with retentive sheath),
One material: stainless steel
Two inclinations: 90° and 110°
Usage advices  

Indications
Fixation

Lower and upper partial dentures
Free-end and/or bounded restorations
Unilateral and bilateral dentures

MATRIX: soldered or cast-on or cast with precious and non-precious alloys

PATRIX: soldered to the framework or retained into the denture acrylic