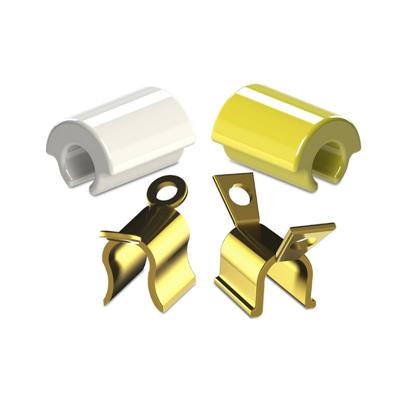 C-Rider
Ackermann clip (round bar + rider)
C-rider
is a primary connector that consolidates the abutment teeth with periodontal deseases giving stability to the prosthesis. Its reduced room allows a use in whichever application either on traditional prostheses or on implant-supported dentures.
C-rider
function can be rigid or resilient depending on the diameter of the bar chosen, while the
C-rider R
version offers a higher vertical resiliency.
The world-wide known system of dental attachment international  always available.
BENEFITS

⇒

 Two different metal riders to choose the
     desired connection
⇒
Two color coded plastic riders
for two retentive
     strengths: white (standard retention) and yellow
     (high retention)
⇒
Round plastic bar
more easily bent to follow the the ridge anatomy, or in close-bit situations. 
    
USAGE ADVICES

♦
Kennedy's classes III and IV
♦
Tooth and tooth/gingivial supported dentures

♦ Implant supported dentures
♦ Splint across anterior and posterior tooth bounded spaces

Features  

Bar
Rider

Two bar patterns of 1,8 and 1,9 mm


Three materials: precious alloy, stainless steel and plastic
Two retentive strengths: standard and high
Usage advices  

Indications
Fixation

Tooth and tooth/gingivial supported dentures
Implant supported dentures
Splint across anterior and posterior tooth bounded spaces

BAR: pattern cast as part of retainer castings

RIDER: metal rider retained in processed denture acrylic socket; plastic rider fitted into the removable part of the denture