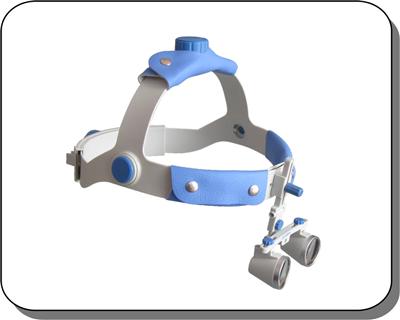 SLH Binocular Loupes
Flip-up Galilean binocular loupes
The SLH Binocular Loupes come with various magnification and field of view specification options:
2.5x

 

Magnification is the most popular model. It offers the widest field of view and longest depth of focus.
3.0x

 

is designed for dentists who need more magnification, giving you a good field of view and depth of focus.
3.5x

 

is the highest magnification available in Galilean Loupes, being suitable for specialist work within a smaller depth of view by giving you the ability to perform most dental procedures, such as cosmetic, crown and bridge, etc.
SLH Binocular Loupes Features:

Multi-coated, high grade glass lenses produce crisp, clear image.

With the very large field of view, the depth of focus is deep and the object can be seen stereoscopically with actual distance feeling.

Fatigue is minimized after prolonged use.

Smart design, convenient for mobile diagnosis.

Vertical Distance:

 

6 mm up and down displacement.
Adjustable Viewing Angle:

 

0 to ~40°.
Adjustable Pupil Distance:

 

45 - 80 mm to suit all kinds of face
Adapt to apply a coaxial led headlight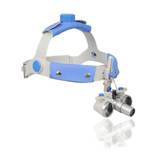 SLH Binocular Loupes Configurations:
| Magnification | Working Distance | Field of View | Weight without Frame |
| --- | --- | --- | --- |
| 2.5x | 340 mm | 80 mm | 71.0 g |
| 2.5x | 420 mm | 100 mm | 71.0 g |
| 3.0x | 340 mm | 70 mm | 71.5 g |
| 3.0x | 420 mm | 84 mm | 71.5 g |
| 3.5x | 340 mm | 60 mm | 72.0 g |
| 3.5x | 420 mm | 72 mm | 72.0 g |