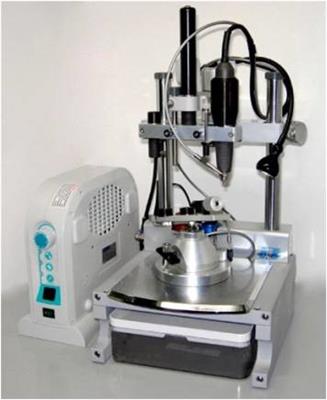 A2
Gold Line
A2 is a precision milling machine steady
,
compact
and
easy to use
, with all the main items to do milling, attachments assembly and surveying. Equipped with tri-dimensional movable arm with vertical stop and guide to realize holes, channels, chamfers and interlocks. Furnished with electrical micro motor (with complete porta-chuck nuts ø 2,35 – 3 – 1,6 mm),
digital electronic feeder
with adjustable speed,
pneumatic-electrical pedal, lockable model holder, spotlight
and
incorporated mandrel for attachments assembly and surveying.

Why choose A2

Strong and steady, it is a tireless working instrument.
Complete and universal, usable for all techniques, included the finishing of ceramic materials, thanks to an optional set of accessories.
Compact and easily positioned in the laboratory.
To be able to choose the desired locking system.

Allowed techniques
attachments assembly and positioning
surveying
free-hand milling
guided milling to realize holes, channels, chamfers and interlocks on wax, resin, alloys, abutments
Bur cooling circuit
Pneumatic system that sends air or nebulized air-oil to the bur, during the wax and metal milling, allowing a quicker working, more polished walls and less consumption of burs.

Integrated spotlight Adjustable lighting system of the machine that improves the tri-dimensional perspective of the model without shadows. Being not reflective it is less tiring.

Base locking unit
Very practical system, safe and reliable that allows to lock the base or to move it without friction on the whole working plane.

Adjustable supporting crosspiece
Support of the movable arm of the machine that allows adjusting the working position to the height of the model.

Micro motor with quick bur release
Motor assembly (with medium eccentricity 0.02 mm) that allows the release and the locking of the bur in a very short time (about 5 seconds), reducing the working time.

Mandrel for attachments assembly and surveying
Accessory incorporated in the movable arm of the machine and coaxially positioned to the micro motor. This makes the attachments assembly and the surveying simultaneous and precise.

Separate digital electronic feeder
It supplies the electrical feeding to the machine and is equipped with all regulation and control devices. Easily removable and multi position for several uses.

Mechanical model holder AR1/M
Very big model holder granting an excellent working stability.
It allows to fix and lock many different kinds of models and to work without using any transfer technique.
Pneumatic-electrical dauble-pedal
Air-oil cooling assembly
Complete porta-chuck nut ø 2,35 mm
Complete porta-chuck nut ø 3 mm
Collet adapter for ø 1,6 mm burs
Ergonomic handgrip
Slideways oil

A2  Gold Line

 
AR1/MMD magnetic model hoder
Model holder privided with switch-off magnets allowing the locking of the base on the working plane of the machine.
Micrometric tracer point
Device allowing a micrometric measuring of the working to be done.

A2 STONE set
Set of accessories that can be assembled to the machine for the finishing of primary elements made of ceramic materials (sintered zirconia, zirconia implants, alumina, metal free all-ceramic).
A turbine with water cooling, to avoid micro-fissures in the ceramic materials, and an innovative water collect system allow to work safely protecting all the elements of the machine.
Worked materials
Resin
***
Precious alloys
***
Non precious alloys
****
Titanium
***
Implants
****
Zirconia
(with optional STONE set) **
Technical data
Machine dimensions (mm)
240x300+50x510
Machine Weight (kg)
21
Dimensions electronic feeder (mm)
94x268x228
Weight electronic feeder (kg)
4
Micromotor
Speed (rpm)
1.000÷50.000
Pressure (bar)
3÷4
Air consumption (l/min)
40