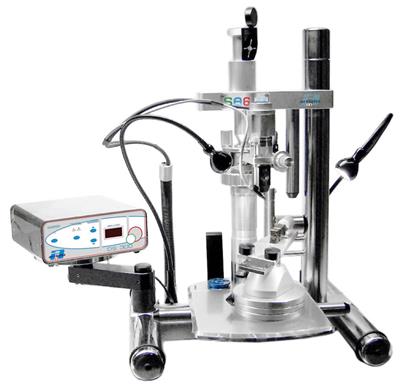 Super A6
Excellence Line
Very high-precision milling machine able to satisfy both daily exigencies of a dental laboratory and any other kind of requirement. Thanks to the high mass of its slide-table, the machine allows the technician to reduce the operating effort. The exclusive motor assembly realized by Artiglio together with the micrometric measuring system assure more precise walls and a quicker finishing and polishing of the surfaces. It is furnished with

 
DC powered chuck
(with complete porta-chuck nuts ø 2,35 and 3 mm), 
digital electronic feeder
with adjustable speed, triple pedal, lockable model holder, spotlight 
and mandrel for attachments assembly
and surveying.
Why choose Super A6
• NO LIMITS: it permits to realize all the possible works of a dental laboratory with measurable precision.

• PEERLESS PRECISION and STABILITY


• Best result, last effort.
Movable arm on high-precision ball slide –table

Three microns of coupling tolerance in the ball-slide table of Super A6 and Super A8 to achieve an unbelievable precision to the highest stability and the best manageability.

DC-powerde chuck PUSH LOCK U

Ten micron tolerance of the bur locking system especially designed for the dental milling, this means more precise walls and a quicker finishing and polishing of the surfaces.

Adjustable pneumatic suspension

Adjusts the resistance of the vertical slide to follow the exigencies of the working. It can be used "high" for metal milling and "light" for wax milling or for milling on precious alloys.

 

Adjustable feeder

Easily removable, can be adjusted to reduce the space and to obtain the best individual working position

 

Incorporated micrometric assembly

Assembly integrated in the mobile arm including stops, precision screws and operating knobs. It permits a precise construction, measurable on vertical and transversal axis of the machine, of milled elements, such as channels, chamfers, holes, interlocks and attachments

AR1/MMD magnetic model hoder
Model holder privided with switch-off magnets allowing the locking of the base on the working plane of the machine.

 

Double integrated spotlight

Adjustable lighting system of the machine that improves the tri-dimensional perspective of the model without shadows. Being not reflective it is less tiring.

 

Double pneumatic-electrical pedal
Device allowing an easy start and stop of the micro motor and the bur cooling.

Bur cooling circuit
Pneumatic system that sends air or nebulized air-oil to the bur, during the wax and metal milling, allowing a quicker working, more polished walls and less consumption of burs.

 

Adjustable supporting table

Support of the working plane with high excursion that allows working also on high models.
PUSH-LOCK U powered chuck
Digital electronic feeder
Double spotlight LED
Pneumatic-electrical double pedal
Air-oil cooling assembly
Mechanical model holder with switch-off magnets
Working plane with locking system
Complete porta-chuck nut ø 2,35 mm and 3 mm
Ergonomic handgrip
Universal mandrel
Milling lubricating oil
Comfort  Pack
Arms supports "Support Colour"
Adjustable arm supports to be fixed to the basement of the machine to allow a relaxed working.
 

Burs holder Ring
Accessory allowing to handy have all the drills required for the working to be done.
 
Ergonomic handgrip Finger
For a tireless long working.
Further optionals
 

Induction mandrel
Spindle of the latest generation of extreme power for optimal control of machining
Super A6 -

Excellence Line
Worked materials
Resin
*****
Precious alloys
*****
Non precious alloys
****
Titanium
****
Implants
****
Zirconia
---
Technical data
Machine dimensions (mm)
400x430x520
Dimensions electronic feeder (mm)
195x190x80
Machine Weight (kg)
36 included feeder
Weight electronic feeder (kg)
3
Vertical range H max/ h min / stroke (mm)
205/110/50
Micromotor
Speed (rpm)
1.000÷20.000
Pressure (bar)
3÷4
Air consumption (l/min)
40