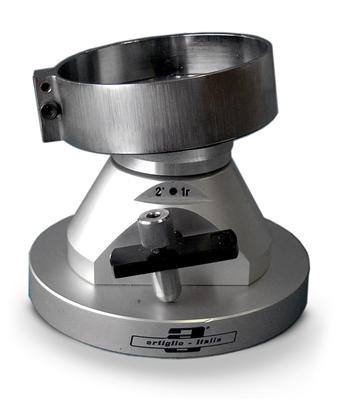 Range
Limiting device
Range is a simple and cheap system to make conical and conometric milling.
Range has a limiting device to allow the inclination amplitude of the plate between predetermined values, from 0° to 12°, in all directions.
The rotation of a threaded ring nut, situated under the model holder plate, increases the maximum available inclination of the model of 2° for each turn. It is possible to mount on the model holder base Range the universal model holder plate A54/PR (Range/M version) or the plaster setting plate (Range/G version, shown in the sideways picture).
| | |
| --- | --- |
| Machine dimensions (mm) | ø 110x70 |
| Machine Weight (kg) | 0.9 |
| Pressure (bar) | 3÷4 |
| Air consumption (l/min) | 25 |